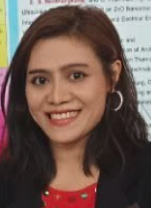 นางสาวศิริพร พันธุ์ศรี
MissSiriporn Pansri
Department : ภาควิชาฟิสิกส์
Room : 1410
Phone : 4330
Mobile : 0994419161
E-mail : siriporn.p@ubu.ac.th
ประวัติการศึกษา
BSc Physics Khonkaew University THAILAND
MSc Materials Science University of Alberta CANADA
Ph.D Physics University of Waterloo CANADA (2018)
งานวิจัยที่สนใจ
- Biomaterials for bones and dental implants, artificial heart valve,cancer therapy and alzheimer disease
- Drug delivery
- Semiconductor Simulations and Modelling: computer simulation of deep level transient spectroscopy from energy gap of semiconductor, modelling of fabricated MO/TiO2 P-N heterojunction solar cells and photo-detectors, defects in semiconductor
- Theoretical Biophysics: protein adsorption, biosensor development, drug delivery and protein folding.
- Polymer Physics, Polymers under confinement, Liquid Crystals
รางวัลและเกียรติยศ
2019-2020 Research grants from

1. Ubon Ratchathani University under the project named "Denatured Protein Adsorption on Poly-Ethylene Oxide Surface: "computational modelling with molecular dynamics methods"

2. Biodiversity-based Economy Development Office (Public Organization) (BEDO) Thailand under the project named "Fabrication of bioactive ZrO 2 nanotubes with antibacterial properties on Zr metal for potential applications in bone implants
ทุนวิจัย
2017 Grants from

University of Waterloo, Graduate Experience Award University of Waterloo, International Doctoral Student Award

2010 – 2017 Grants from

Royal Government of Thailand scholarship under the program 'Strategic Scholarship for Frontier Research Network' (SFR) of Thailand's Commission on Higher Education

2003 – 2009 Grants from

Royal Government of Thailand scholarship under the program 'Development Promotion of Science and Technology Talents' (DPST)
ประสบการณ์การทำงาน
2013-2018 Teaching assistance at University of Waterloo CANADA

2018-present Lecturer and researcher
ผลงานตีพิมพ์
1. Siriporn Pansri and Suttinart Noothongkaew, MWCNTs/r-GO hybrid films fabricated by layer by layer assembly for supercapacitor electrodes, Journal of Energy Storage. 22 (2019) 153-156.

2. S. Pansri, R. Supruangnet, H. Nakajima, S. Rattanasuporn, and S. Noothongkaew, Band offset determination of p-NiO/n-TiO2 heterojunctions for applications in high-performance UV photodetectors, J Mater Sci (2020) 55:4332–4344.
ทักษะอื่นๆ
1. fabrication of nano-sized biomaterials (TiO2 ZrO2 nanotubes, ZrO2/ZnO nanoparticles)

2. characterization of surface morphology, topography, crystallite size, crystallography, bioactibity and antibacteiral property of nano-sized metal oxide and biopolymers

3. atomistic molecular dynamics (Amber, Gromac, NAMD), molecular mechanics (Amber, NAMD) and coarse-grained Monte Carlo simulation of biopolymers;

4. numerical simulations of semiconductor materials and devices;

5. design and fabrication of surface plasmon resonance biosensors;

6. scientific program development in C and Python;

7. data visualization with Visual Molecular Dynamics (VMD), Paraview, Octave, and Gnuplot